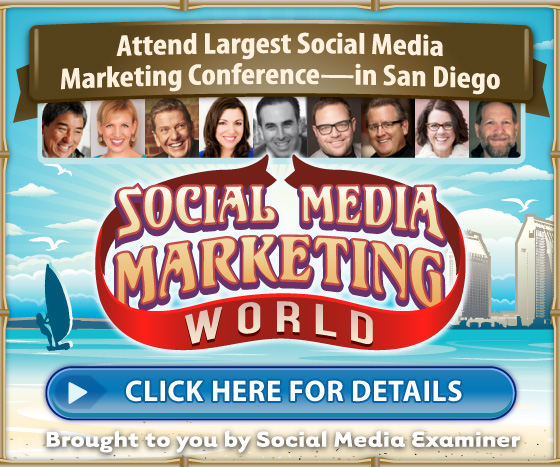 Hey all,
Just wanted to put in a plug for this social media marketing world conference. For those who are interested in understanding the world of social media, this is a great conference to attend. 100+ workshops and sessions led by leading marketers from top brands including the likes of IBM, Cisco, San Diego Chargers, Experian, Tyson Foods, SAP, Priceline, Dell and so on.
SOME GOOD REASONS TO CHECK IT OUT:
1) Find practical workshops to help you setup and measure social strategies for your company/blog/website.
2) Don't waste money testing things that you can learn from experience learned the hard way by those who went ahead of you.
3) Meet leading social strategist and marketers – pick their brain, go get those nuggets of wisdoms that will save you a ton of time and effort.
4) Dude, it's San Diego. In April. Take a few days to go relax on the beach!
5) Full recording of EVERY SESSION available to you after the conference. This I think is the money items as you can review or go through sessions you missed. Share it with colleagues, get people on your company on board.
Ticket prices go up as time goes by so read more about it quick and sign up quicker if interested:
>> CLICK HERE FOR MORE INFO
SOME GOOD SPEAKERS:
Guy Kawasaki (author, The Art of Social Media)
Mari Smith (co-author, Facebook Marketing: An Hour a Day)
Michael Hyatt (author, Platform)
Chris Brogan (co-author, The Impact Equation)
Jay Baer (author, Youtility)
Amy Porterfield (co-author, Facebook Marketing All-In-One for Dummies)
Mark Schaefer (author, Social Media Explained)
Joe Pulizzi (author, Epic Content Marketing)
Ann Handley (author, Everybody Writes)
Michael Stelzner (author, Launch)
Brian Solis (author, What's the Future of Business?)
and more!
See Full Speaker List Here >> LINK HERE
SOME GOOD TESTIMONIALS!
Testimonials from some high caliber stars in marketing. This video is crazy long though.
SOME GOOD HIGHLIGHTS SHOTS
And here another crazy long video showing scenes from the last summit. Pretty cool, but as I am also a videographer, I think this video is way too long! ha! You guys need a consultant?!