Social Media Success Summit 2012 [Conference]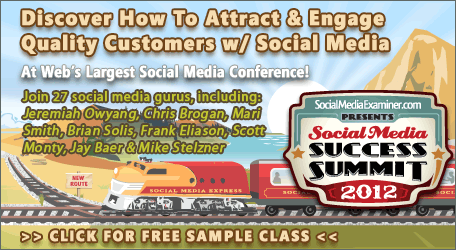 I know that many of the readers here on Clean Cut Media have strong interest in Social Media. Whether you are marketing professionals, business owners, or perhaps just curious on how Social Media is being used to reach various audiences, I would recommend you check out this Social Media Summit 2012.
Why this Social Media Conference?
No travel – All Online Webinars. Saves a lot of money!
Session Recordings – Miss a seminar? You can watch the recording. Or just watch at your convenience.
Ask Questions – It's a great place to ask all the social media questions you've always had but never could get good answers for. The speakers here are all veterans of social media marketing, people who've found a lot of success. They can speak through experience.
Network & Private Forum – There is a private Linkedin group you can join where you can network with others in a similar boat as you and other professionals in the space. It's also one of the best Q&A spaces. Everyone asks each other questions and opinions on social media and get immediate answers from real people in similar situations. It's great. It's a great resource.
Cheap & Money Back Guarantee – Conferences are usually $2,500-$3,500. It's a hefty price to pay to learn. This conference is only $297 if you sign up before April 19th

(Extended to April 20th!)

(50% off!).  If I do the math… give me a second… that means if you sign up after that date, it'll be $594! Still cheap, but not as cheap if you sign up NOW! Nothing to lose as you can just email them within the first 2 days if you rather get a refund. Full refund with no hassle. Nice.
Need Another Good Reason to Attend Social Media Success Summit?
I personally attended the last two Facebook Success Summits. What I like about this conference (other than that super cheap price) is that the examples are more concrete, more catered to smaller businesses. Also you get great access to the speakers both during the webinar and the ample opportunity to connect with them through twitter afterwards. Also the Q&A section in the linkedin section is super helpful!
Sample Social Media Summit Webinar Topics
Google+ For Business: How Google's Social Network Changes Everything
 How to Grow Your Brand and Following with Facebook
 YouTube Marketing 2012: No Camera, Content or Audience? No Problem!
 Twitter Power Strategies: Essential Insights for Business Success
 How to Put Google+ to Work for Your Content and Your Business
 3 Simple Steps to Generating Massive Traffic with YouTube
 8 Steps to Managing a Social Media Crisis
 How Social Customer Service is Attracting New Customers and Increasing Sales
 How Big Brands are Using Blogs
 The Social Sale: How to Turn Fans and Followers into Customers
 No Fluff Social Media Measurement
 The Art of Story: How to Succeed with Blogging
 Pinterest: How Your Business Can Use Images to Drive Traffic
Give it a try!: SIGN UP HERE
Tell us how it was and what you learned!